How Frontman And UTM Tracking Can Ensure Your Campaign Success
Chatbots have been proving gold mines for many businesses irrespective of the industry. In terms of marketing, digital marketers are getting the most out of this technology and combining it with the analytical tools to check their overall marketing efforts as well as better understand their audience.
One such analytical tool which is being used is UTM tagging. This when combined with chatbots like Frontman can allow you to explore the channels which are bringing more sales conversions to your website. Let's find out.
What it UTM tagging?
UTM which stands for Urchin Tracking Module is a piece of web analytical software designed to track the behaviour of unique website visitors. It was later acquired by Google to become the part of Google Analytics. UTM tagging or UTM parameters is used by marketers to check the impact of their online marketing campaigns across various traffic sources and publishing media.
When UTM parameters or code is added at the end of a URL, it detects the campaign associated with that specific website and points it towards the browsing session of the website until the campaign attribution window is closed or expired.
Types of UTM tagging and their benefits
Through UTM tagging, you can track the number of new and returning visitors, conversion, bounce rate as well as detailed social media performance of visitor traffic. There are five different parameters of UTM, each has its own benefits. The first three are most widely used while the rest can give you more insights. Below are five different things you can do through UTM codes:
Source – For getting the source of traffic
The source parameter will let you know the origin of the traffic. You can track sources originating anything from Google, Facebook, Twitter, bing or inbound.org. You can also track the name of an email newsletter list by adding the code at the end of the url. For instance, if you want to track the traffic coming from Twitter the code will be like 'utm_source=twitter'.
Medium – For getting the type of traffic
The medium parameter is used for tracking the type of traffic the visitor is originating from such as email, cost per click (CPC), referral, social, display, etc. For example, to track CPC, you can add 'utm_medium=source' at the end of the url.
Campaign – For identifying the campaign or promotion
The campaign parameter let you know the performance of a specific promotion or strategic campaign. It can also be used to differentiate between the traffic of Facebook Ad campaigns and email campaigns. For instance, you can use 'utm_campaign=summer_sale' to identify campaign associated with summer sale.
Content – For tracking the clicked link
This type of UTM parameter identifies the specific link which was clicked to bring the user to the website such as text link, banner or logo ad. Content parameter is often used for A/B testing and content-targeted advertisement. An example of this can be 'utm_content=logolink'.
Term – For identifying search keyword
The term parameter let you track the keywords that brought the user to the website. This is especially used in the paid search advertisement. For example, you can add 'utm_term=sports+shoes' at the end of the URL.
Different parameters can be combined to create a URL so that you can track custom campaigns.
How can you use UTM with Frontman?
That's the focal point of this story. Being a marketer, it is extremely important to track the metrics coming from open rates, click-through rates and website visits. If you are not doing this, there isn't any other way you can improve your results.
Chatbots like Frontman have all the inbuilt tracking capability, so you don't have to go to Google analytics or third-party tools to see open, click-through rates and purchase happening through your chatbot. When a user interacts with your chatbot, using the UTM parameters you can track various metrics for each and every link inside your chatbot and target customers based on how they came to know about your product.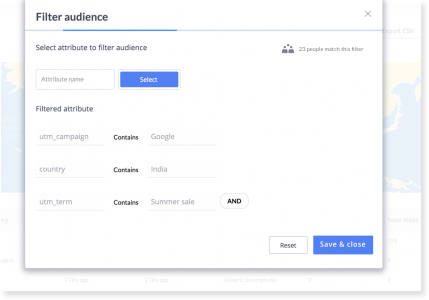 The Frontman dashboard gives you detail insight of your overall marketing campaign. The Audience Manager with interactive graphical interface let you filter or segment the audience by various UTM parameters. You can know the area of your most engaged user, boost signups from your advertising campaigns and send targeted messages to users who are signing up from specific sources such as Google ads.
The Crux
By utilizing UTM code, the PPC managers, email marketers, content managers, affiliate merchants and digital marketers can analyse their overall campaign strategy and make changes accordingly in order to drive sales and get more return on investment. They will be able to sell effectively and track everything that's working and not working.
Makerobos' Frontman makes it easy for you to personalize experiences depending on what email, content or ad campaigns converted your leads. Give it a try if you are really keen on improving your marketing efforts.